17th May 2021
What Is The Invisalign Process?
We've offered Invisalign braces to our patients in and around Stourbridge for years, and still love the incredible results this simple, yet effective, treatment can create. In this blog post, our expert dentists will answer some common questions about the Invisalign process, and what you can expect when you choose Lion for your treatment.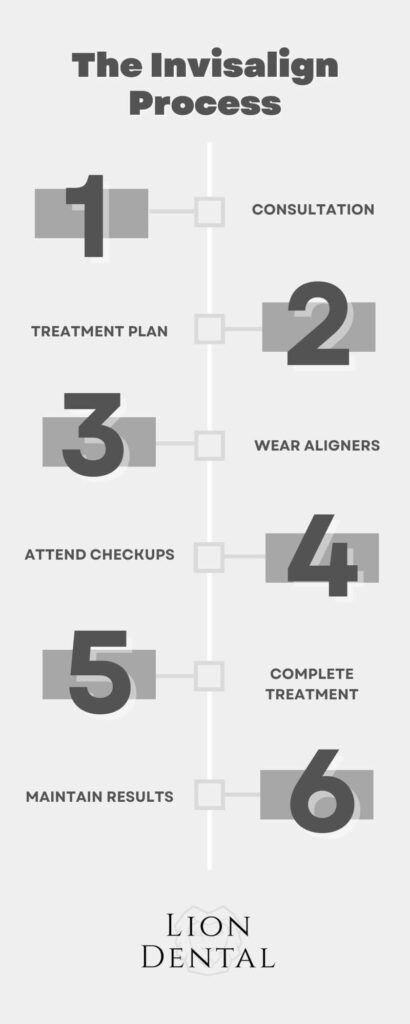 First of all, what's Invisalign?
It's a revolutionary clear brace system that straightens teeth incrementally. Invisalign braces – which look like plastic trays – are moulded for your smile at each stage of treatment, so they're both snug and discreet. They're also really easy – and simple – to clean, as you can either go over them with a soft toothbrush, or soak in cleaning crystals every couple of days.
What happens during treatment?
We'll first assess your smile and check whether Invisalign treatment is right for you, and whether or not you need any other dental procedures before you get started. We'll then take scans of your smile with our portable iTero scanner, which is used to render 3D images of each treatment stage, as well as your results. Finally, you'll have bespoke Invisalign trays created to match these treatment stages, and will be guided on how and when to swap these.
What can Invisalign help with?
Lots of things – from simple straightening cases to more complex bite problems. Treatment has a high success rate, and it's been used to help millions of people all around the globe. As we've mentioned, we'll be able to assess whether we can help you during your consultation at our Stourbridge dental practice.
Is Invisalign treatment expensive?
Not at all. In fact, our dentists think it offers fantastic value for money – especially as if you choose us, your treatment is led by the first woman in the UK to achieve Diamond Provider status. This means we have lots of experience in Invisalign and have been recognised for our achievements in the field.
Why choose Lion Dental?
We've achieved international recognition for our Invisalign care, and have helped over 2,000 patients achieve their dream smiles. We're known for our state-of-the-art clinic and leading technology, as well as our expertise in various dental fields. We also offer a friendly setting for any treatment. So, if you're considering Invisalign, why not call or email our Stourbridge dentists today? Simply get in touch with our dental practice through our contact page.